Launch your idea management quickly and easily
But how can companies make the best possible use of their employees' creativity? How can they achieve measurable advantages in the competition for quality, costs and innovations? You will learn more in this article. Discover how much your company can save each year through employees' ideas using our online calculator.
How companies benefit from idea management
To remain competitive, companies depend on efficient business processes, a lean cost structure and a constant increase in productivity. Idea management involves employees in these important challenges. The goal of an idea management system is to continuously increase the number, average value and implementation rate of employee ideas.
An example illustrates this: The Example Inc. has 250 employees.
If the company generates 0.75 ideas a year with an average value of 750 dollars per employee, the implementation rate of 24% results in annual savings of 33,750 dollars.
Through ideation campaigns, the company increases the number to 3 ideas per employee with an average value of $2,500. The implementation rate can be increased to 36%. The annual savings amount to $675,000.
Idea management is closely related to the continuous improvement process (CIP). Its goals include process optimization and the development of process innovations. But idea management does even more! Innovation management , product development and the development of service innovations also benefit from the ingenuity. In times of digitalization, idea management plays an increasingly important role in the digital transformation in companies.
In practice, there are numerous overlaps between idea management, knowledge management, the continuous improvement process, process management and risk management. All these areas are potential sources of new ideas.
Employee Ideas Value Calculator
Find out how much your company saves each year through idea management!
Without additional activities, the average number of employee ideas in the company is 0.75 ideas per person per year
Up to $1,000 average value per idea is an average result that almost all companies achieve.
Companies achieve an average implementation rate of 24%.
Number of employee ideas per year.
Annual savings through employee ideas.
How idea management has evolved in recent years
Initially, idea management consisted of a clearly defined ideation and innovation process, which included ideation, idea evaluation and implementation in the form of clearly defined successive steps. Through the use of Internet technologies, it is possible today to benefit more effectively from the swarm intelligence of employees. In addition, feedback from customers can be included by using methods such as co-creation, customer co-creation and open innovation are used. The promotion of creativity and the support by experts – similar to the function of the continuous improvement manager – is also the focus.
In our free e-book "Create Outstanding Organizations" you will learn how to win and successfully implement high-value employee ideas.
The Idea Management Process
The idea management process begins with a search for improvement opportunities in products and processes. In the early phase of the process, employees are motivated to actively seek out, discuss and analyze difficulties and problems. At the same time, solutions from other companies and industries are sought.
In the idea generation stage, concrete ideas are developed. They are evaluated and prioritized. The best ideas are then developed further into concrete concepts that include a plan for implementation. In the implementation stage, responsibilities are established and key performance indicators are defined to monitor success.
Idea management in your company
The establishment of a modern idea management system in the company has numerous advantages:
Continuous cost reductions, which make processes more efficient and offers more competitive
a measurable quality advantage through ideas for improvement by employees
new product and service ideas resulting from the networking of departments, such as sales and production
Modern idea management also offers advantages for strategic topics, such as the development of digital services: Through the networking of younger and more experienced employees from different departments, the attitudes and views of the Digital Natives are combined with the experience of longstanding employees.
It is not only companies that benefit from modern idea management. It also contributes to a measurable increase in competitiveness in SMEs – such as in companies with a workforce of 15 or more employees.
What is an idea management system?
An idea management system describes all structural and cultural measures through which the idea management and the continuous improvement process of a company is supported. An idea management system consists of the following components:
Idea management process: The process defined within a company from the initial idea generation through various decision stages to implementation.
Objectives and measurement criteria: The definition of goals that a company wants to achieve through the introduction of idea management. These can be monetary goals – for example savings – but also cultural or organizational goals such as increasing the employers image. These goals are usually measured with the help of an innovation measurement system.
Roles and responsibilities: The tasks of idea managers are defined in the idea management system. At the same time, supporting roles such as idea coaches, idea sponsors or experts are defined.
Cultural measures: The innovation culture of a company contributes significantly to the success of an idea management system. Measures to promote a culture of innovation include idea competitions or workshops on the subject.
Continuing education offers: Employees receive further training on topics such as ideation please and idea development.
All these components are coordinated in an idea management system. The goal: The generation and implementation of as many high-quality ideas as possible. The Innolytics® idea management software supports companies in setting up an idea management system.
The five most important questions about idea management
In our many years of working with companies and almost 300 successfully completed projects, questions about idea management have repeatedly emerged. We answer the five most important ones here.
How do I motivate employees to get involved in idea management?
How can we increase the quality of ideas?

What is the task of an idea manager?

What is the difference between idea management and innovation management?

What does a successful bonus system in idea management look like?

Idea management – the 5 success factors
Successful idea management is characterised by clear success factors. Innolytics® founder and managing director Dr. Jens-Uwe Meyer has researched these in his scientific work, which can be found in several publications. The most important success factors in idea management include:
Management's commitment: Companies in which the management board and executives consistently motivate their employees to develop ideas can activate the creative potential of their employees much better than companies in which idea management is a marginal topic.

The value system. Companies that promote a creative working atmosphere take away employees' fears of rejecting "wrong" or "stupid" ideas. In idea management, the rule of thumb applies: ten ideas come to a successfully implemented idea and are rejected. This rule of thumb is accepted in a company with a creative working atmosphere.

The networking of different departments: Employees often feel like they are swimming in their own "juice". Why? The division of labour in companies inevitably leads to a kind of tunnel vision. A modern idea management system ensures that employees can see, and are not afraid to look, beyond their own horizons.

An incentive system: In classic idea management, employees were motivated by cash bonuses in exchange for viable ideas. Modern idea management offers incentives that go beyond this: Thus, modern idea management offers the possibility of creating an individual incentive system. Employees receive points for activities such as writing, commenting and evaluating ideas.

Joy! Science and practice have clearly shown that successful idea management is fun for employees and teams. Companies can promote this through inspiring events – but above all, through work tools that motivate.
In our free e-book "Create Outstanding Organizations" you will learn how to win and successfully implement high-value employee ideas.
Idea management – The underestimated potential in the company
In their widely acclaimed book "Corporate Creativity – How Innovation and Improvement Actually Happens" idea management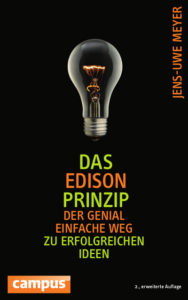 expert Alan G. Robinson and Samuel Stern highlighted a dilemma of numerous executives dealing with idea management. Executives and company directors are often aware that the creative potential in their company is considerably greater than what they are currently using. However, according to the scientists, they have difficulties in awakening this creative potential in idea management.
Innolytics® founder Dr. Jens-Uwe Meyer has answered the question of how managers can gain and use the underestimated potential in idea management in numerous specialist articles, scientific papers and books, such as "The Edison Principle". In the article "Wanted – Recipes for the Growth of the Future" he describes the challenges for companies undergoing change. In the Harvard Business Manager, he points out that companies often rely on the wrong idea management tools. And in the English language publication for the Canadian magazine TIM Review he mentions factors for building a creative corporate culture.
By building up an idea management system, companies and their management can identify and exploit the underestimated potential.
The decisive factors are:
Interview employees about their ideas and wishes
Inspire employees about idea management
Gain the support of the top management or the management board
Selecting and using the right tools
Innolytics AG supports companies in activating and exploiting their underestimated potential, through many years of experience in idea management.
Idea management by Innolytics®
Innolytics AG has years of expertise in the development of idea management processes and idea management tools. With this experience, we have developed Innolytics® Ideas – a software for the next generation of idea management. It allows employees in the idea management process to network with each other, enter ideas, discuss and evaluate them.
Our definition of idea management: A creative process that motivates employees
The definition of idea management at Wikipedia is short:
"Generation, collection and selection of suitable ideas for improvements and innovations.".
Our definition goes further: idea management is motivation, learning and teamwork. Bringing employees together, inspiring them for idea management and shaping the future of a company together.
When developing Innolytics® Ideas, this was our goal: Use social media technologies to further develop the classic definition of idea management. And to develop a tool that supports the company suggestion scheme and the continuous improvement process with state-of-the-art technology.
Innolytics® Ideas is an innovative online tool which promotes the creativity of employees: Idea generation through internal crowdsourcing. Developing the future of companies together.
Idea Management – The Success Process of Innolytics® Ideas
The classic idea management process provided for a clear course of action: Suggestions for ideas were submitted via a form, and reviewers evaluated and awarded those suggestions prizes or not. This classic idea process has numerous shortcomings: Unfortunately, feedback takes a long time, and the motivation of employees is apt to decrease.
On the basis of more than 100 projects in companies, we have redefined the idea management process. We orientated ourselves on scientific knowledge about creative employees and companies. We found that promoting the creativity of employees and supporting managers in building an innovative corporate culture was our most important goal.
In the idea management process of Innolytics® Ideas, employees enter ideas from everywhere. Instead of a lengthy process, these ideas are commented on, developed further, and finally evaluated according to transparent criteria in an interactive process. The status display makes it possible to present the status of each idea ("Submitted", "In Discussion", "Successfully Implemented") transparently in the idea management process. Idea coaches motivate employees to continuously optimize suggestions.
Innolytics AG supports companies in establishing a future-oriented idea management system. The implementation of Innolytics® Ideas is supported by workshops and seminars to impart the necessary know-how. Together with customers, Innolytics® develops long-term plans for idea campaigns and the creative implementation of graphics and videos.
Innolytics® Ideas supports idea management in large corporations as well as SMEs – small and medium-sized enterprises.
Idea management software: Innolytics® Ideas
Innolytics® Ideas follows the logic of social networks:
Ideas, comments and ratings can be entered from anywhere in the world. Also mobile – via smartphone. Important for global idea management. The idea management software apps are available at Apple and Google
Ideas are discussed with colleagues, and thus step-by-step to develop concepts.
The evaluation is based on criteria: Traceable, transparent and from different perspectives
Innolytics® Ideas gives your company more employee ideas. Ideas are followed by quick, well-founded feedback. Your company increases efficiency and innovation
By working with Innolytics®, you get more than just an idea management software: You benefit from our many years of practical know-how in establishing idea management processes in companies and from our scientifically-based expertise.
The success factor in professional idea management
Get to know the advantages of Innolytics® Ideas.
Download the free whitepaper now: "Winning and Successfully Implementing Employees – Guidelines for Innovative Idea Management"
View Innolytics® Ideas features in a video software demo now