Next Generation Idea Management Software – Free for up to 15 Users
Turn your company into an innovation leader with groundbreaking Innolytics® idea management software. Connect your most creative minds. Enable cross-departmental collaboration on ideas and innovation.
Cloud based in accordance with European data protection laws. No installation required, you can start immediately.
Developed for the mobile age: Mobile website, apps for iOS and Android.
Simple and customisable design
Idea management software: Innolytics® Ideas features at a glance

Evaluation of ideas according to own criteria

Incentive and reward system

Upload of pictures, videos, PDFs, etc.

Process manager: design and adapt idea management processes

Role Manager: Creating Different Roles for the Administration of Ideas

Mailing Automation: Automation of routine tasks (user reminders, escalation, etc.)
Smart Search / duplicate check, supported by artificial intelligence

Comprehensive statistics and reporting functions

Selective publication of ideas (e.g. within departments)

Quick Polls: Surveys among users

Ready for immediate use (web-based)

Cross-platform (desktop, tablet, smartphone, etc.)

Usable for CIP, BVW and innovation management

Available for iOS/ Android

10 to 10 million users (easy scalability)
Idea management software in use
Enter ideas from anywhere
The Innolytics® idea management software let's you work on your ideas no matter where you are. For example, you attend a trade fair. You are encountering a new industry trend. Take a picture or video, add a description and upload it. Discuss and evaluate business trends. Spread knowledge throughout your company faster than ever bevor.
Turning customer problems into ideas
Your customer has problems with one of your products. Ask for a short smartphone video. Upload, comment, and discuss with the help of the idea management software. Simply optimise the next day. Innovation is that fast.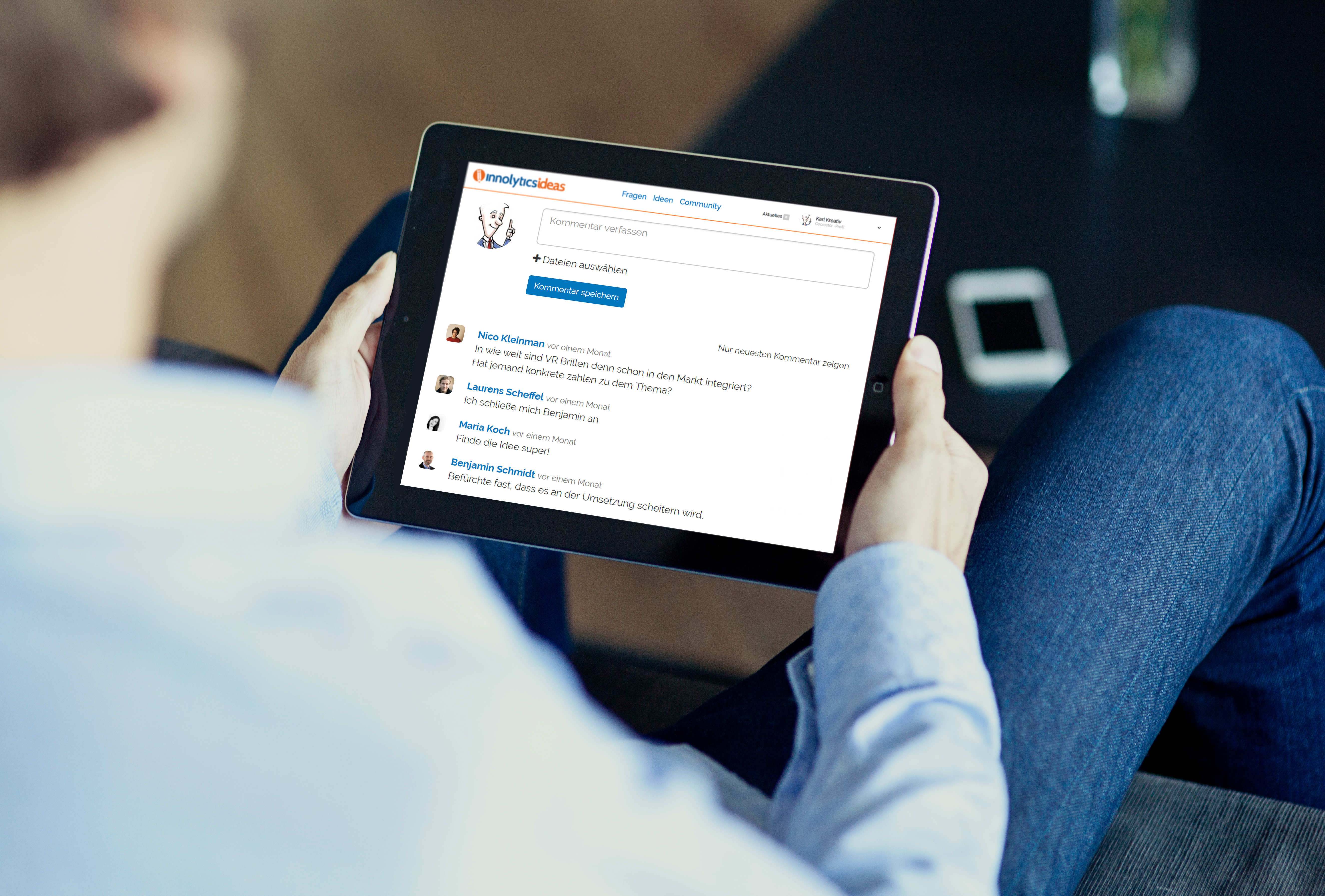 Accelerate cross-departmental collaboration
Your sales department picks up valuable information visiting the customer. By using the Innolytics idea management software, you can easily capture these insights and share them with others. Let creativity and innovation thrive throughout your company.
Employee Ideas Value Calculator
Find out how much your company saves each year through idea management!
Without additional activities, the average number of employee ideas in the company is 0.75 ideas per person per year
Up to $1,000 average value per idea is an average result that almost all companies achieve.
Companies achieve an average implementation rate of 24%.
Number of employee ideas per year.
Annual savings through employee ideas.
Pricing plan
Simple. Clear. Fair.
Trial
6 months free trial for up to 15 users with limited features and personal introductory webinar
Setup in less than 60 seconds, introduction via Innovation Academy and FAQ
Enterprise
starting at
$395,-

monthly + setup
Process manager, roles, evaluation criteria, value calculator, reward system, blog, campaigns
Use of additional modules: Knowledge management, risk management, complaint management, etc.
Individual set-up with support, customization to company structures and CI
In-person webinars, administrator training, key user training
Multi-language support (currently DE, FR, ES, IT, PL, CHIN)
Enterprise Plus
starting at
$695,-

monthly + setup
Including all Enterprise features
Use of the software module Surveys for analyses of the culture of ideas and innovation, employee feedback on the continuous improvement process, surveys on opportunities for improvement and optimization, etc.
E-learning module with online courses on CIP, problem-solving techniques and the implementation of ideas. Create and edit your own interactive online courses, automatic creation of certificates.
Innolytics® Idea management software in numbers
Idea management platforms in use
Grown from experience
Our idea management software is developed by innovation experts
Grown from experience
Innolytics® has been supporting companies in the development and management of ideas for more than 10 years. This practical experience guarantees optimal usability of the idea management software.
For big and small
The idea management software for teams, medium-sized and large companies
For big and small
Innolytics® IDEAS idea management software is uniquely flexible in its use thanks to easy-to-fit templates and functions. Without being cumbersome or highly complex.
Not for nerds
Innolytics IDEAS is not just for convinced digitalists and qualified computer technicians
Not for nerds
The Innolytics® IDEAS idea management software is so simple that you rarely have to involve your IT department. Not even for the initial setup.
Questions about the free version, premium version and enterprise version of the Innolytics® idea management software
How can I start to build an idea management process in the best possible way?
Is this the right idea and innovation software for me and my company?
Do I need to install the idea management software?
What obligations do I have when using the free version of the idea management software?
What else can the idea management software from Innolytics® do?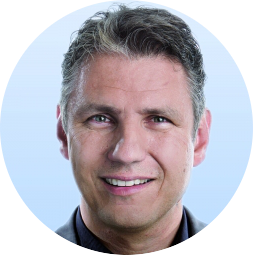 Innolytics® Ideas draws on the experience of more than 200 innovation projects and over 6 years of scientific research.